U kent het wel. Uw boot is mooi schoon en u heeft een strakke kap, maar u krijgt de ramen van uw bootkap maar niet helder en glimmend. In deze blog leggen we u uit hoe u dit probleem oplost. Hiervoor gebruiken wij ons eigen merk Plastic Spray!
Waarom onderhoud aan ramen en kuststof oppervlakken?
Uw kunststof ramen krijgen het flink te verduren tijdens het vaarseizoen. Door water, zon, warmte en kou kunnen deze bijvoorbeeld dof worden, uitdrogen of zelfs scheuren.
Dankzij Plastic Spray krijgt u uw ramen en andere kunststof oppervlakken weer helemaal schoon en glanzend. Ook is Plastic Spray erg goed voor het voeden van uw oppervlak. Door de kleine hoeveelheid vet, vertraagd Plastic Spray de uitdroging van uw kunststof oppervlak. Hierdoor gaan uw ramen dus langer mee!
Hoe gebruik ik de Plastic Spray?
Zorg ervoor dat u in een goed ventilerende beschutte plek te werk gaat. Schud de bus goed en spuit de Plastic Spray met een afstand van ongeveer 30 centimeter gelijkmatig over het oppervlak. Wrijf het daarna direct uit met een microvezel doek totdat het oppervlak droog is. Hieronder leiden wij u stap voor stap door het proces. Voor dit voorbeeld hebben wij een hoek van een ruit van een bootkap gereinigd.
Let op: het is belangrijk dat het oppervlak goed droog is voordat u uw kap opbergt/vouwt. Wanneer het oppervlak niet goed droog is, kunnen er vetvlekken in het textiele doek komen.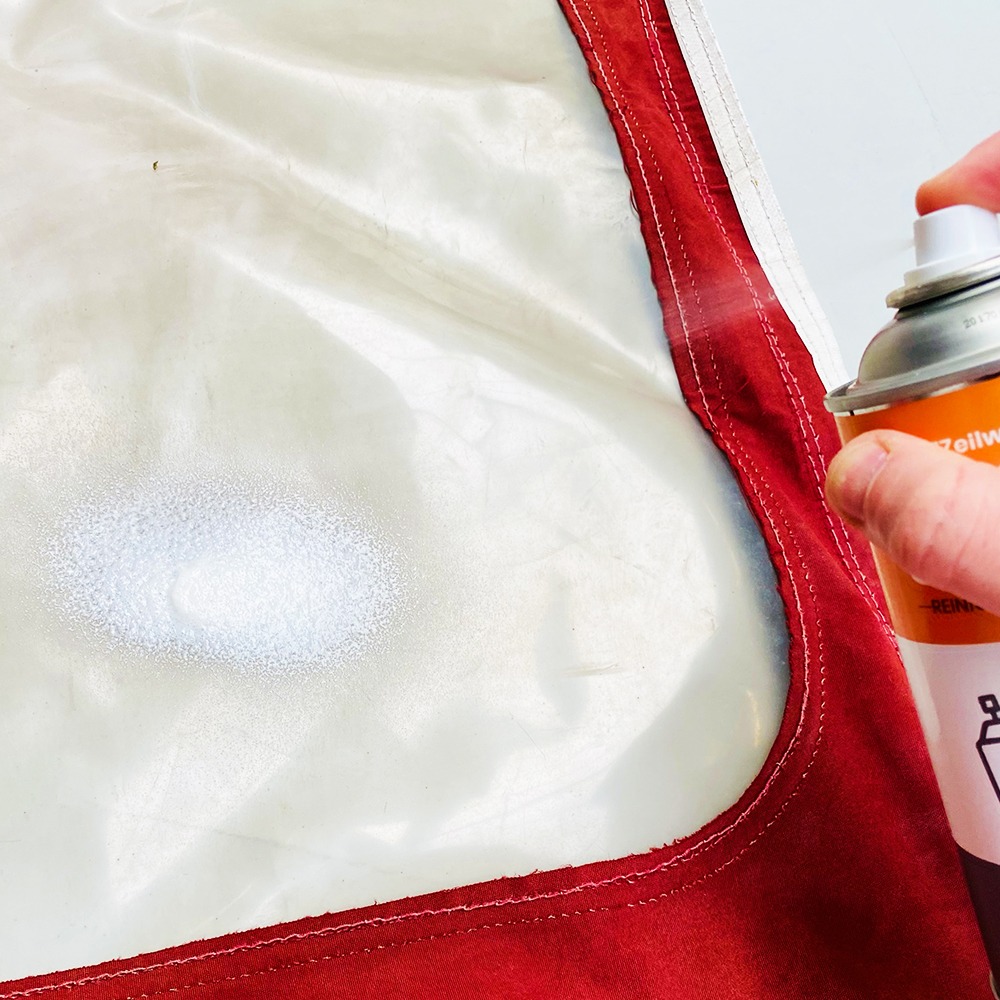 Spuit, op een afstand van ongeveer 15-30cm, een goede hoeveelheid Plastic Spray op uw plastic ruit en laat het een minuutje 'trekken'. Let goed op dat u niet te veel product op uw doek spuit, dit kan namelijk vlekken veroorzaken.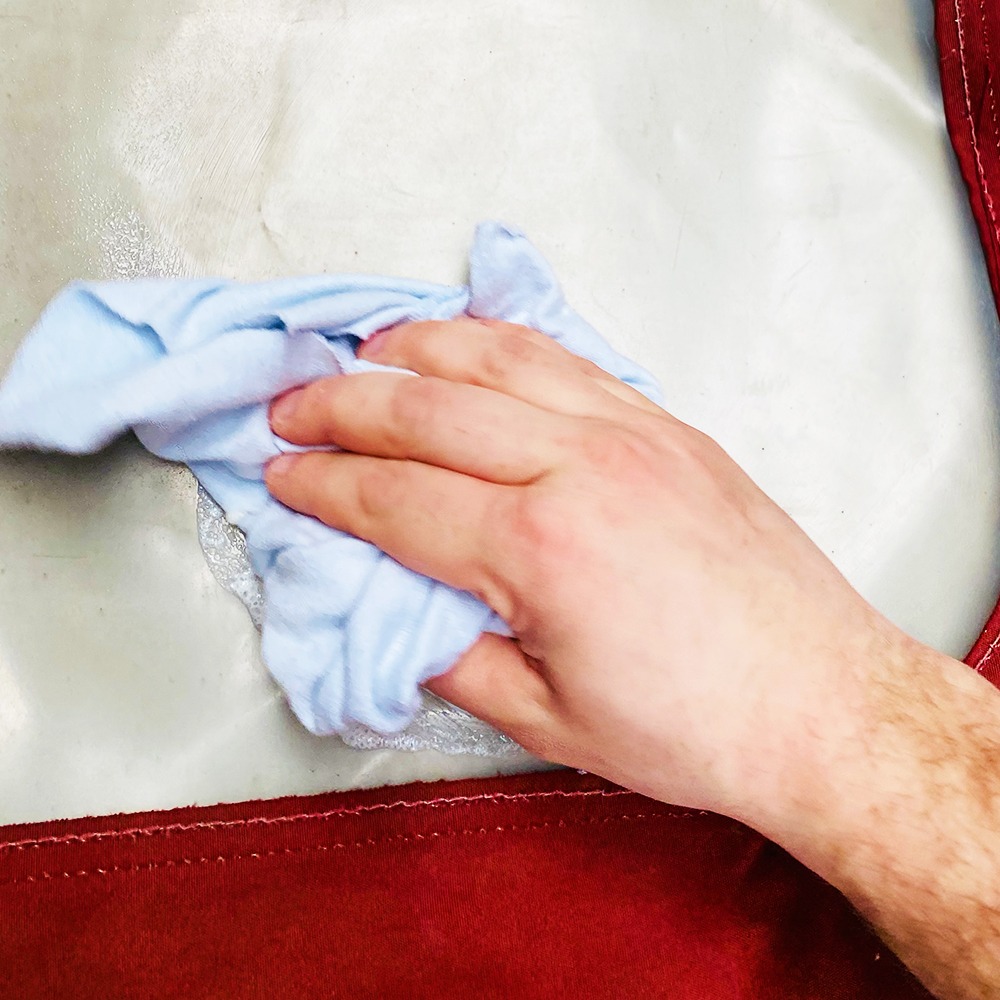 Poets uw ruiten met bijvoorbeeld een microvezeldoek totdat het oppervlak volledig droog is en bekijk het resultaat. Wellicht is een tweede behandeling nodig. Ga dan verder met stap 3. Niet? Ga dan naar stap 4.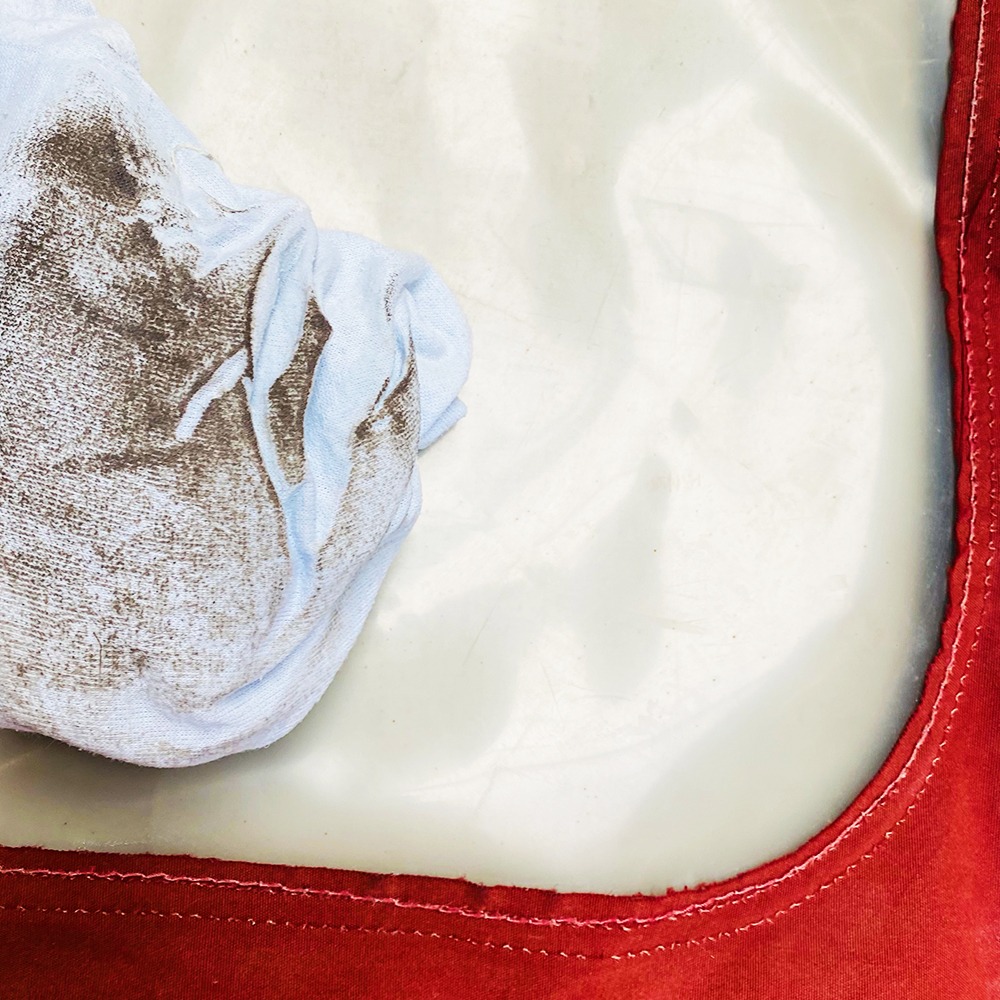 Is uw ruit erg vuil of bent u nog niet tevreden? Behandel het oppervlak dan opnieuw. Is uw ruit oud? Dan is deze uiteraard al minder helder. Bekijk het doek of er nog vuil van uw ruit afkomt.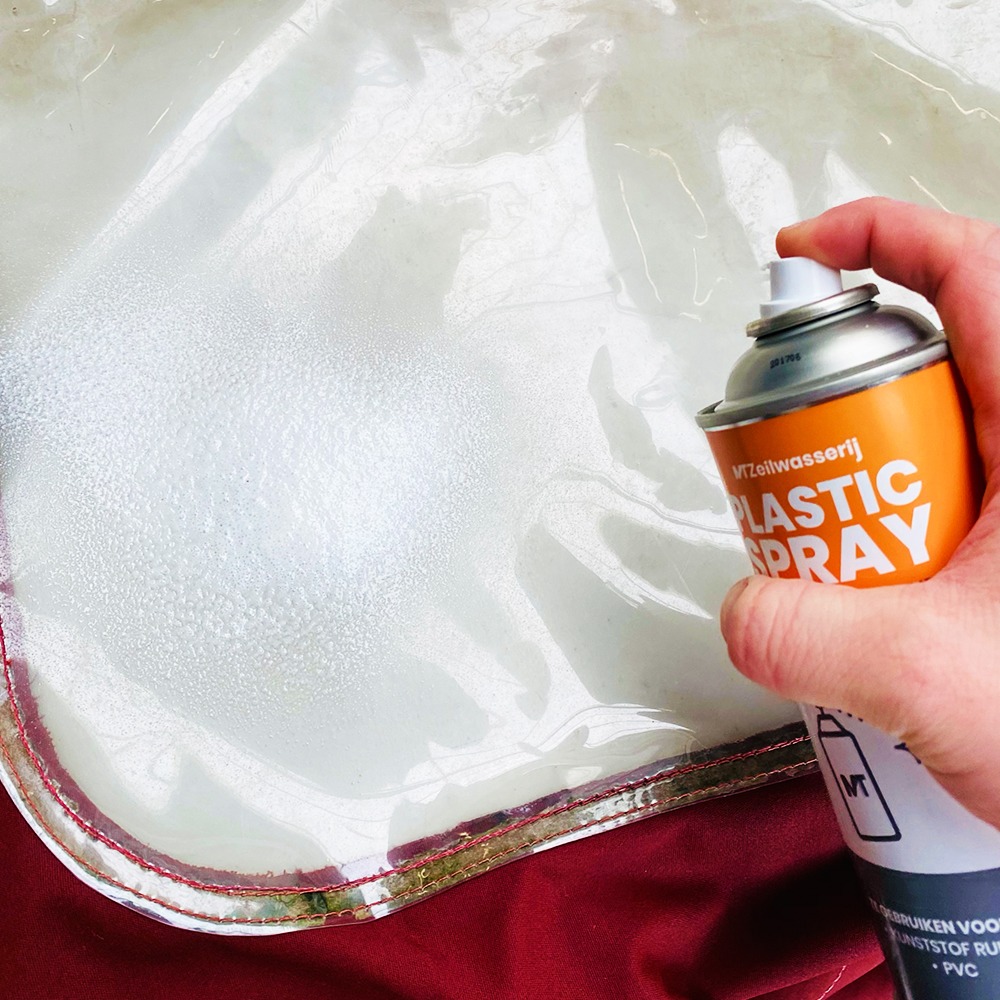 Stap 4 - Achterkant behandelen
Herhaal de vorige stappen ook voor de achterkant van uw ruit. Waarschijnlijk is deze zijde van het raam minder vuil en hoeft u hem maar één keer te behandelen.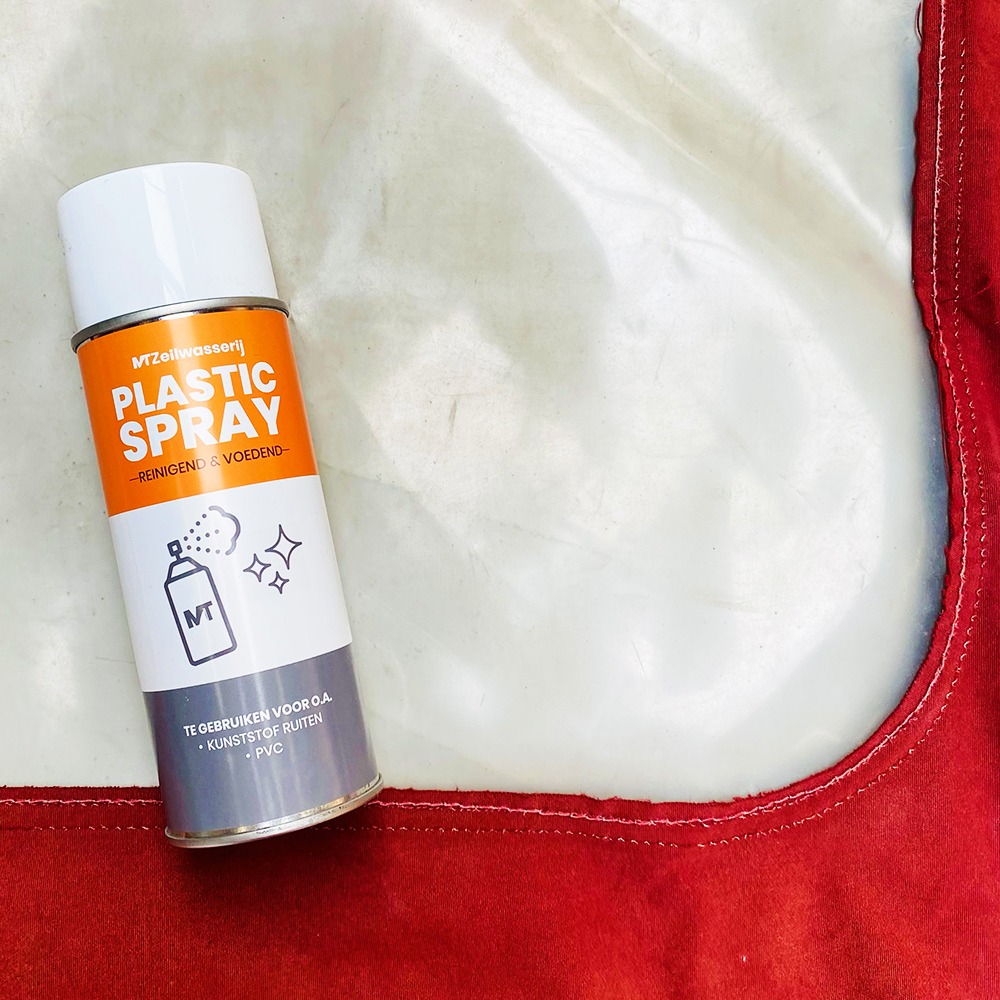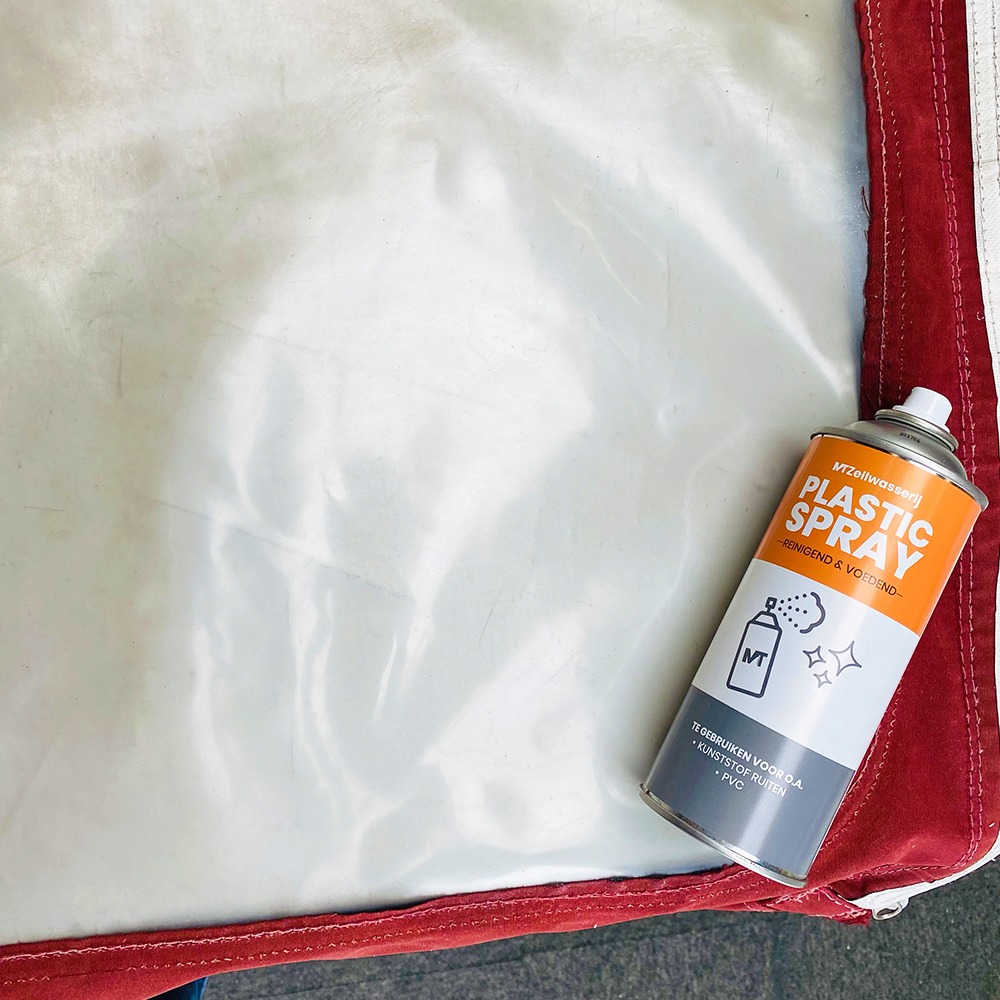 Na Plastic Spray
(Enkel de hoek behandeld)
Plastic Spray is een hoogwaardig product, geschikt voor het reinigen en voeden van vrijwel ieder kunststof oppervlak. Denk aan ruiten van uw boot of tent en bijvoorbeeld PVC. Plastic Spray geeft de glans weer terug aan deze materialen en zorgt ervoor dat de oppervlakken weer soepel worden. Het product heeft geen slijpende of schurende werking waardoor u uw ramen of andere oppervlakken niet beschadigt.
Let op! Lees vóór gebruik altijd eerst de gebruiksaanwijzing.
Bestel onze andere producten
Voor en na foto's MT Zeilwasserij