Het nieuwe jaar is begonnen, dus het begint weer te kriebelen… het nieuwe vaarseizoen komt er aan! Misschien is uw bootkap wel toe aan een goede reinigingsbeurt. Daarom leggen wij in dit blogbericht uit hoe u uw kap weer helemaal tip top in orde krijgt!
Uw bootkap weer schoon én geïmpregneerd
Wanneer uw bootkap aan een goede reinigingsbeurt toe is, zijn er een paar dingen waar u aan moet denken. U moet uw bootkap namelijk niet alleen reinigen, maar ook opnieuw impregneren om lekkages te voorkomen. Bij het reinigen verdwijnt namelijk de waterdichte laag op uw bootkap.
Tip: Sla deze pagina op in uw browser om hem op een later moment er gemakkelijk terug te vinden!
Daarnaast is het belangrijk om na te gaan of uw bootkap verder in goede conditie is. Kijk bijvoorbeeld goed naar de stiksels. Zijn ze nog intact of zijn ze broos en laten ze op sommige punten misschien zelfs al los? Als dit het geval is, is de kans op lekkage door de stiksels na reiniging groter. Er zijn meerdere punten waar u op moet letten. Hier komen wij later in deze blog op terug onder het kopje 'Bootkap controleren op beschadigingen'.
Verder is het van belang van te voren te bedenken waar u de werkzaamheden uit gaat voeren. Er moet genoeg ruimte zijn om uw bootkap uit te leggen, uit te hangen om deze genoeg tijd te geven om te drogen én voor uw eigen gezondheid is ook een goede ventilatie noodzakelijk.
Dit komt er in het kort kijken bij de reiniging:
Bootkap reinigen
Bootkap impregneren
Controleren op beschadigingen
Een geschikte plek om te reinigen & impregneren
Genoeg tijd om te laten drogen
Goede ventilatie
Bent u er klaar voor om eens flink de handen uit de mouwen te steken? Lees dan snel verder!
Note: Is onderstaand stappenplan misschien íets te veel werk voor u? Krijg dan een prijsindicatie op deze pagina en laat uw boottent professioneel reinigen door MT Zeilwasserij.
Stap 1 - Een geschikt reinigingsproduct
Zorg dat u een reinigingsproduct in huis heeft die geschikt is voor het reinigen van bootkappen. Dit kan ook een universele doekreiniger of tentdoekreiniger zijn, maar informeer eerst of deze ook voor de stof van uw bootkap geschikt is.
Voor dit voorbeeld hebben wij ons eigen merk Professioneel Doekreiniger gebruikt. Met één flacon kunt u ongeveer 15 vierkante meter stof behandelen.
Stap 2 - Bootkap weken in bad
Leg uw bootkap in een weekbad. Raadzaam is om dit minstens 12 uur te doen. De algen en andere vuiligheden worden zo week, waardoor reiniging gemakkelijker gaat. Zorg ervoor dat het doek geheel ondergedompeld is in het water. Gebruik bijvoorbeeld gewichten of gevulde jerrycans om de boottent onder water te houden.
Tip: Voeg een ruime hoeveelheid Professioneel Doekreiniger toe aan het weekbad. Zo kan de geconcentreerde vloeistof alvast wat voorwerk doen.
Stap 3 - Doekreiniger gebruiken
Haal uw bootkap uit het water. Veeg overtollig water van het doek af met een zachte bezem. Spray vervolgens voldoende doekreiniger op het doek, verdeel deze goed met de zachte bezem en laat dit een paar minuten intrekken. Spray vervolgens nog wat doekreiniger op uw boottent schrob nogmaals grondig met de zachte bezem.
Waarom een zachte bezem? Zo behoudt u het best uw stiksels en beschadigt u uw bootkap het minst.
Stap 4 - Spuit af met water
Spuit uw doek af met water. Gebruik bijvoorbeeld een tuinslang met harde straal of, wanneer uw stiksels en doek nog van goede kwaliteit zijn, een hogedrukspuit (met niet te veel vermogen).
Let op! Gebruikt u een hogedrukspuit? Kijk dan uit dat u niet te dicht op het doek spuit en de waterstraal blijft bewegen.
Stap 6 - Laat uw boottent drogen
Hang uw bootkap ergens te drogen, bijvoorbeeld buiten op een zonnige dag of in een garage/schuur. Wij raden af uw bootkap op de grond te laten drogen. Zo wordt hij niet alleen opnieuw vuil, maar loopt u ook kans op schimmels door het vocht wat zich onder het doek bevindt. Ook droogt uw kap minder snel.
Pas zodra de bootkap helemaal droog is kunt u het uiteindelijke resultaat zien. Bovenstaande foto is na één behandeling met onze doekreiniger.
Nog niet tevreden met het resultaat of heeft u een paar plekjes gemist die pas zichtbaar worden na het drogen van uw bootkap? Herhaal dan bovenstaande stappen of behandel kleine vlekken nogmaals met de doekreiniger. Het resultaat is uiteraard afhankelijk van in welke staat uw bootkap zich verkeert.
Bootramen reinigen én verzorgen
Vergeet ook de ramen van uw bootkap niet! Deze krijgen het flink te verduren in de zomer. Door water, zon, warmte en kou kunnen deze bijvoorbeeld dof worden, uitdrogen of zelfs scheuren. Poets ze daarom na het reinigen nog even op met onze Plastic Spray. Dit product reinigt niet alleen het oppervlak maar voedt deze ook. De wat vettigere textuur geeft uw ramen weer hun glans terug en zorgt ervoor dat deze soepel blijft.
Bootkap impregneren in 4 stappen
Klaar om uw bootkap of tentdoek te impregneren? Volg dan onderstaande stappen en u kunt zonder zorgen het water weer op.
Note: Voor dit stappenplan gebruikten wij ons eigen merk Professioneel Impregneer (geschikt voor 15 vierkante meter stof). Mocht u na het lezen deze ook in huis willen halen? Bestel hem dan in onze webshop!
Stap 2 - Gebruik een impregneermiddel
Breng het impregneermiddel, bijvoorbeeld Professioneel Impregneer, gelijkmatig aan totdat deze goed bedekt is met het product. Uw bootkap moet er weer uitzien alsof hij nat is gespoten met water. Zo weet u zeker dat u een goede dekking heeft.
Tip: Geef extra aandacht aan stiksels en rondom de ramen!
Laat, voordat u uw boottent weer bevestigt, het doek goed drogen. Hang hem bij voorkeur uw op in een goed geventileerde omgeving. Doe dit minimaal 24 uur of totdat u zeker weet dat het doek goed droog is. Lekker weer? Hang uw bootkap dan op in de buitenlucht en laat hem drogen. De wind en zon zorgen er uiteraard voor dat hij sneller terug op de boot kan!
Stap 4 - Test of uw bootkap waterdicht is
Voordat u uw kap weer bevestigt op uw boot, is het verstandig om na te gaan of het impregneren helemaal is gelukt. U kunt bijvoorbeeld een plekje zijn vergeten of te weinig product hebben gebruikt. Sproei bijvoorbeeld met een tuinslang over het doek om te zien of er plekken zijn die niet goed waterdicht zijn. Laat deze plekken vervolgens weer drogen en behandel deze opnieuw met impregneermiddel.
Extra zekerheid dat uw bootkap goed is geïmpregneerd? Behandel dan ook de binnenkant van uw bootkap. Deze stap is meestal niet noodzakelijk, zolang de buitenkant van uw bootkap goed geïmpregneerd is kunt u zorgeloos het water op!
Komt u erachter dat u wat plekjes gemist heeft? Dan kunt u deze plekken gemakkelijk behandelen als u kap al op de boot zit. Zorg er voor de behandeling opnieuw voor dat uw bootkap droog is en het minimaal 24 uur niet gaat regenen.
Bootkap controleren op beschadigingen
Als uw bootkap erg vuil is, zijn gebreken vaak moeilijk te ontdekken omdat ze zich onder het oppervlak van de vervuiling bevinden. Na een reinigingsbeurt zijn uw doek en stiksels weer goed zichtbaar.
Voor en na een reinigingsbeurt checkt MT Zeilwasserij altijd in welke staat uw bootkap, ramen én stiksels verkeren. Dit kunt u ook eenvoudig zelf doen. Ga bijvoorbeeld eens met uw nagel langs een stiksel en kijk of deze met weinig moeite stuk gaat. Als dit het geval is, is het raadzaam uw boottent opnieuw te laten doorstikken. Uiteraard kunt u contact met ons opnemen om uw bootkap te laten repareren.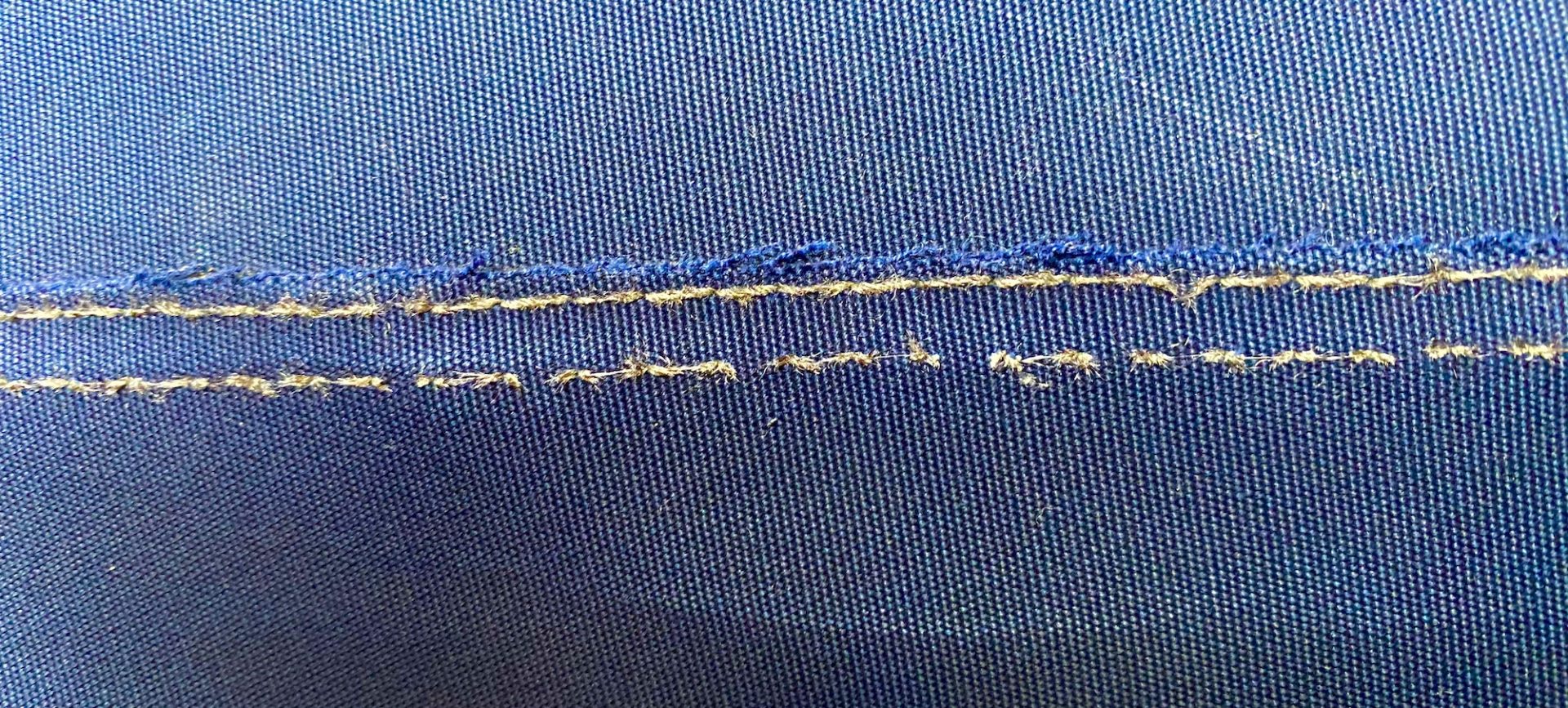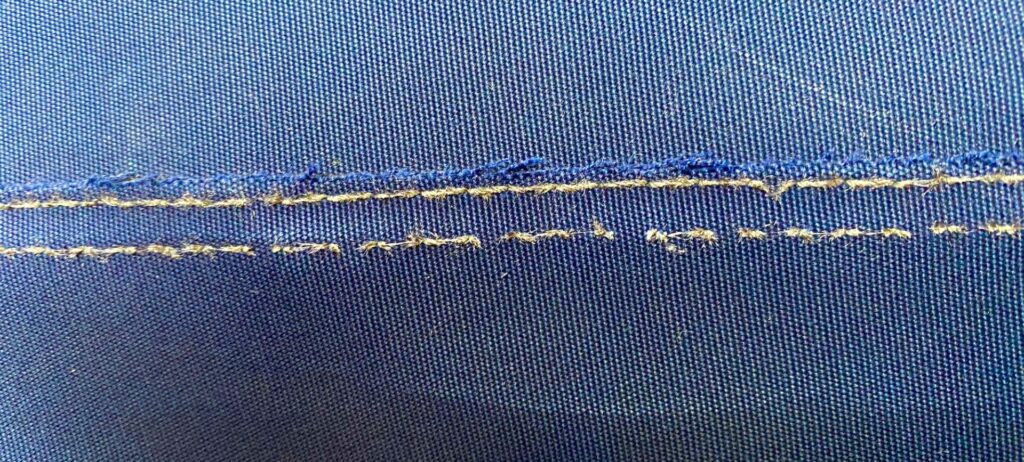 Zelf uw bootkap reinigen en impregneren íets te veel werk?
Dat begrijpen wij maar al te goed. Gelukkig kunnen wij u helpen met een professionele reiniging van uw bootkap voor een zachte prijs. Uiteraard kunnen wij u ook helpen met reparaties aan uw bootkap.
Bekijk deze pagina voor een prijsindicatie en neem contact met ons op als u uw kap langs wil brengen bij ons óf bij één van onze inzamelpunten in Noord-Holland, Zuid-Holland of Utrecht.
Voor en na foto's MT Zeilwasserij